Lok Sabha Elections are coming closer and there is an excitement of all the Indian citizens are
Lok Sabha Elections are coming closer and there is an excitement of all the Indian citizens to vote their favorite contestant. In the coming May, this can be the biggest democratic fight between three corners. At one side there is ruling Party led by Current Prime Minister "Narender Modi" i.e. BJP. At second corner, there is Indian National Congress led by "Rahul Gandhi" and "Priyanka Gandhi". Third corner is led by Mahagathbandhan under the leadership for regional leaders like Mamata Banerjee, Mayawati, Akhilesh Yadav, Arvind Kejriwal which is union of regional parties having its soft alliance with INC. At one side collaboration is trying to counter NDA and on other side Rahul Gandhi is convincing people by making allegations on BJP led government. Though, Narender Modi is promoting his five years achievements and campaigning on the issues related to development.
What is the public opinion on 2019 Lok Sabha elections?
Through various sources like social media, group surveys and secondary surveys, the result of opinion is calculated.
Let us begin with Andhra Pradesh

There are 25 seats in the region and currently N Chandrababu from TDP is CM of the state and because people are not satisfied with TDP Government. may win only 4 seats and because of its collation from NDA will not benefit them at all. NDA is contesting from all the seats so NDA may win 7 seats from the state. Y. S. Jaganmohan Reddy is becoming a popular face from the region so it may convert YRS Congress party. They may get 14 seats from the state.
Arunachal Pradesh opinion poll Lok Sabha elections 2019
Without any doubt, NDA will get two out of two seats from the region.
Assam 2019 Lok Sabha Elections opinion poll
Assam will have NDA leading the elections. Out of 14 seats, NDA may win 9 seats and UPA may win three seats. All India Union Democratic Front may win two seats
Bihar 2019 Lok Sabha Elections opinion poll
The period from 2014 to 2019 has witnessed many political dramas. The coalition of RJD and JD and Janta dal's union with NDA just changed the political opinion of people. Now the situation is that out of 40 seats, NDA may win 32 seats. UPA may win 8 seats.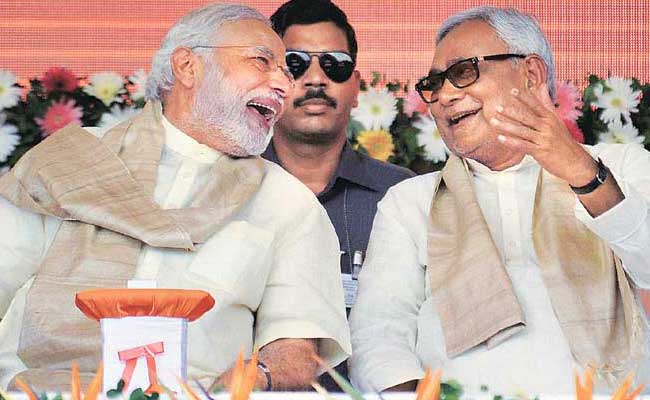 Chhatisgarh 2019 Lok Sabha Elections opinion poll
In this region the situation is bit complicated because if talk about vote share, NDA may win by just one lead i.e. Six seats may have MP from NDA. INC may have 4 seats and others may win just one seat. The slight higher number of BJP interest share is because farmers are unhappy with INC.
Goa 2019 Lok Sabha Elections opinion poll
Due to sudden demise of former CM, late Manohar Parikar, People their are favoring NDA. So two seats will belong to NDA only.
Gujarat 2019 Lok Sabha Elections opinion poll
26 seats of Gujarat will witness no change because 23 are the number of seats that will be occupied by NDA only on the other hand UPA may get only three seats. The Narender Modi's defense stake on Pulwama attack has reconstructed NDA pillars all over the Gujarat. Also people are happy with the present BJP Government.
Haryana 2019 Lok Sabha Elections opinion poll
Jaats were unhappy with BJP, Gujjars were unhappy with BJP but sudden rise in economic opportunities and reduction of corruption in Haryana have reasserted NDA's position in Haryana region. NDA may win 8 out of 10 seats. UPA and INDL may get one seat each.
HP, J&K and Uttrakhand Opinion Poll 2019 Lok Sabha Elections
NDA may sweap 4 out of 4 seats in Himachal Pradesh, But may get 2 out of 6 seats in Jammu and Kashmir while UPA will win 4 seats in J&K. If we talk about Uttrakhand, BJP may have marvelous victory by getting 5 out of 5 seats.
Jharkhand, Karnataka and Madhya Pradesh Opinion poll 2019 Lok Sabha elections
In Jharkhand, JMM and INC may win 3 seats each. While one seat may be won by JVM may get one seat and rest 7 seats may be won by NDA. In Karnataka, NDA may lead by nine seats. UPA may win 9 seats and NDA may win 19 seats out of 28. If we talk about Madhya Pradesh, Out of 29 NDA may win 24 seats and rest of 5 seats might be in the kitty of INC.
Kerala and Telangana Opinion poll 2019 Lok Sabha elections
In both the regions regional parties will get its due as per the public opinion. Kerala may see UPA in Leading mode in the elections by getting 8 seats out of 20 seats. While NDA may win 6 seats and while LDF and UDF may win 3 seats each. In Telangana, TRS may get 12 seats out of 17. NDA and UPA will win two seats each. AIMIM will get one seat in Telangana.
Maharashtra and Rajasthan Opinion poll 2019 Lok Sabha elections
Two area wise biggest states of India having 73 seats. While Maharashtra's 38 seats out of 48 may belong to NDA and Shivsena alliance. UPA and NCP alliance may get 10 seats. Rajasthan's picture is bit different. Due to failed promises of INC, BJP may get 22 seats and UPA may get only 3 seats.
Manipur, Mizoram, Meghalya and Nagaland
Collectively all have six seats and all the six may be with NDA MNF and NPF alliance.
Odisha, Sikkim Tripura and Tamil Nadu
In Odisha, out of 21 seats, 11 may belong to BJP and BJD may get 9 seats. While INC may win from one seat
One seat of Sikkim may be in hands of BJP SDF alliance.
The dramatic change will happen in with respect to all the controversies NDA AIADMK alliance may defeat UPA by just two seats. Means NDA/AIADMK will get 21 seats and UPA may win 18 seats.
NDA will also back 2 out of 2 seats from Tripura.
Punjab
NDA SAD may have marginal victory from Punjab by getting 7 seats out of 13, while no one is interested in AAP and UPA may win 6 seats.
Uttar Pradesh Opinion Poll Lok Sabha Elections 2019
Due to decrease in crime rates and increase in development in Yogi government NDA will get majority vote share from all segments especially student and woman sections. SP and BSP will work better than congress and may win 25 seats while NDA will get 52 seats. INC will even loose from Amethi. It will be the History and will get only 3 seats out of 80 seats.
Territorial Opinion Poll Lok Sabha Elections 2019 (Delhi and other UTs)
NDA will win one seat each from Andaman Nicobar and Islands, Chandigarh, Daman & Diu and Dadra – Nagar Haveli
UPA will win from Lakshadweep and Puducherry so will get one seat from each UT.
In Delhi, All the seven seats will be won by BJP.
Conclusion
NDA will win 329 seats
92 seats will be won by UPA
Rest by the others.