Mythological TV series are said to be one of the most viewed TV shows. India is a land of many sects these diversity in sects leads to variety of audiences. So we are listing the top ten television series of all times that got instant love from the audience.
#10 is Sankat Mochan Hanuman on Sony TV
Sankat Mochan Hanuman was aired on Sony Television. It showed the complete life of Lord Hanuman in detail. It was not for the first time that series of the Lord Hanuman was shown on TV like that. The way innocence of the character "Hanuman" was played and the way they showed the small secret things from various versions of Ramayana, it got the massive love from devottees of Lord Hanuman across worldwide.
#9 is Jai Hanuman on Doordarshan
Old is always better and old is always the root from which present comes out. Sanjay Khan's Jai Hanuman was aired on Doordarshan on every Tuesday. Audience of 1990s had always waited for their favorite TV series. That time Doorsdarshan was massive source of entertainment. So it gained great viewership in 1990s. The result was that mythological shows like "Jai hanuman" had connected audience in such a way like Hanuman devottees connect themselves to "Sunder Kand".
#8 is Karamfal data Shani Dev on Colors
Many astrologers arise misconceptions for planet god Shani in the mind of their clients for sake of their business. This one mythological saga not only broke all these delusions but it taught audience in very liberal ways. Acting talent of the kid who played Lord Shani increased TRP and loyal viewership.
#7 is Siya ke Ram on Star Plus
The phrase "Bhumi jaa Janaki janak suta Sita Shitija Bhoom avni jaa sunaina suta Sita" took the nation by storm. Many never shown before incidents of various versions of Ramayana created altogether new image of Ramayana of all the viewers. Actually this Ramayana was centered around Goddess Sita which was never shown before. Elder sister of Rama, Sita killing Sahastra Ravan and Sita communicating with animals, all these things were shown for the first time. All these incidents have strong authentic scriptural base too.
#6 is Mahabharat (new) on Starplus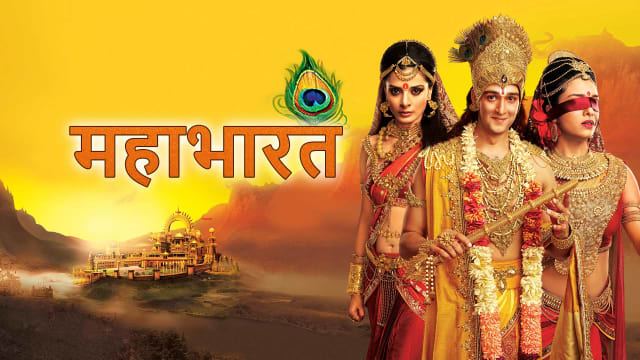 Saurabh Jain as Krishna and his lectures on love and other important segments of life created love for the TV epic "Mahabharata". It actually attached altogether new generation with the mythological epic. Mahabharat is largest epic of worldwide written by Ved Vyasa. There have been many tries to produce Mahabharta on TV. Only two out of all has been passed. One is this new one and other is BB Telefilm's that will be mentioned later in this list.
#5 is Sri Krishna / Om Namah Shivai on Doordarshan
The two sages were then one of the most viewed TV shows. The both were targeting two of the largest devotees base. One segment was that of Lord krishna which was familiar with show's producer before too, because they had initially produced Ramayana. On the other hand there was Dheeraj Kumar who capsulated Shiva devotees and presented Lord Shiva series in a best possible way.
#4 is Devon Ke Dev Mahadev on Life OK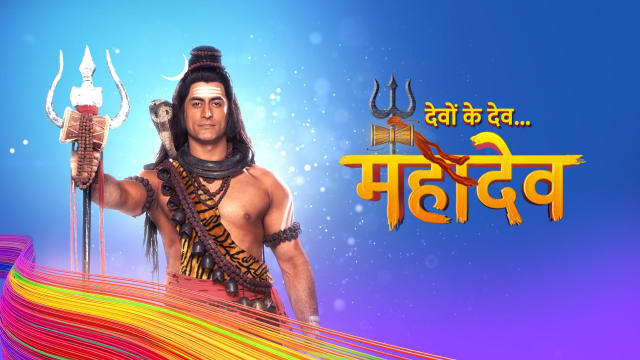 A show that revived the mythological saga on TV in much more developed way, a show that totally changed the face of TV, a show that successfully hosted a new channel "Life OK". Devon Ke Dev at one time was most viewed TV show on TV. Evening time of 8:00 PM had become the prime time on TV. Audience were mesmersied by Mohit Raina's performance and his Lord Shiva's look.
#3 Mahakali Ant hi Aarambh hai on Colors
A show that broke all the records of previous shows. A show that was one of a kind. A show that portrayed Mahakali character in a main lead. Pooja who was playing that character was applauded by the audience. Its TRP was much more than the top shows like Bigg Boss and other powerful daily soap. Without any large amount of promotion, the show left a long lasting legacy in the history of Modern TV.
#2 is Mahabharta (BB Telefilms)
There were Sundays of 1988 when people put their vehicles on road side and gathered together at a place where there was a TV to watch one show called Maha Bhaaaaaaaarat. The loud sound of Narender Chanchal was a red light for those drivers. Females in a house left their personal home work and made a group at the house where their was a TV. This show changed the face of Doordarshan. But #1 should be the one who started it.
#1 is Sampoorna Ramayana of DD
The show was the show which initiated the story of making mythological TV series. The characters who played their roles in it are still considered as the best fitted. It is still the most viewed TV show of all times. Many generations have watched it on varous channels. In a nutshell Sampoorna Ramayana is sampoorna and sampan in all respects.