When we talk about Bollywood, two things are very much important Songs and Dance, As you all know that we have haddone a survey of 5 million people across various cities in Northern India and found out "top 10 and top five" in various domains. When we asked people about the their favorite dancer we connected students, politicians, house wives, govt professionals, dance teachers etc. and we listed 57 dancers from Bollywood and the result of top 10 dancers of Bollywood ever is totally surprising. The list was not having ace choreographers and Tollywood actors.
List of Top 10 dancers of Bollywood ever
10. Varun Dhawan – New Age Dancing Superstar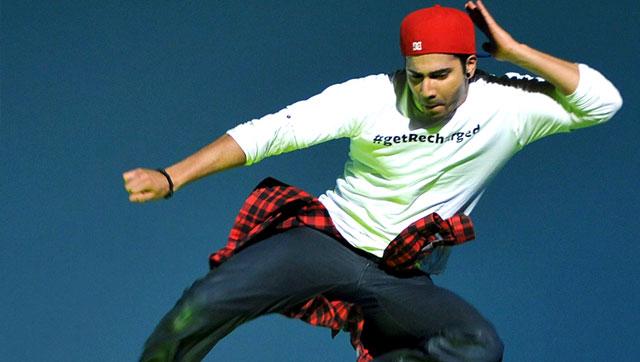 Perfect in comic moves, perfect in sweetness and perfection in physical flexibility make him without the doubt as an upcoming dancing superstar. He is taking age old songs like Tama tama and putting the song's energy to the audience of this generation. In ABCD 2, he showed his perfect western skills and in Badrinath ki Dulhaniya, he showed his skills as a folk dancer. He is having so much to offer. Just wait for a while the countdown has just begun.
9. Sridevi – The Best Character Dancer of Bollywood
Remember the "Main teri dushman" from Nagina, "mere hathon mein nau nau chudiyan hain" from Chandini, tandav sequence from Chaalbaaz, our original hawa hwai always had danced in such a way that she totally let the people know that her character is dancing. It was never that Sridevi is dancing, it was always that the character is dancing. Her realistic expressions added another advantage. Sridevi is not a trained dancer but she was a best learner for sure hence she became a perfect performer on the screen.
8. Shahid Kapoor – The Cutest Dancer of Bollywood
Shahid was a back dancer before, but his love towards his art has made him one of the best dancers of Bollywood. He enjoys while dancing, Right from Mauja hi Mauja to Gandi Baat, Shahid Kapoor is sole reason that why a free style dancing has become too much famous in India. His looks and sweetness with high voltage energy embeds grace to his most simple moves too. He never looses a single beat says ace choreographers like Prabhu Deva and Saroj Khan.
7. Helen – The Best Cabaret Performer of Bollywood
It is a big crime, if you forgot that name while talking about best dancers. Helen was the original diva who broke stereotype belief in her own way. She wore short dresses and performed highly intense cabaret moves in many numbers. Her item number was a demand and hence She was very much accepted by Indian homes at the time when wearing short dresses was a sin. Very less people know that she is trained classical dancer too. Just go an see ooi maa ooi maa ye kya ho gya.
6. Vijyanthimala – The Best Classical dancer ever
The one who started it all is still the numero uno in one style i.e. classical. Vijyanthimala introduced dance to Bollywood and then the story started.  Her each dancer number was a cult and her each move was graceful. Honto pe aisi baat is still most energetic performance ever and thanks to the Mala. She attained numero uno status in Bollywood because of this forte. Hereby we had many actresses who were following her. She was a master piece in acting and a unique diamond in dance.
5. Ashwariya Rai – The Most Beautiful dancer ever
"Models are models they can not bring a stigma that a dancer or an actress can bring", but let you know that this is not true because our Ash is real Cash. Right from Nimbuda to Crazy Kia Ash established herself as one of the most beautiful dancers. She is trained Bharatnatyam dancer but she is equally good in western numbers. She has full control over her body.  Her splendid performance in Di hai bechan we is the result of it. Till date she is the only actress who could have matched dance moves toe to toe with veteran dancer "Madhuri Dixit" in Dola re Dola.
4. Govinda – The Most expressive male dancer of Bollywood
Banarsi Babu Govinda is one name in Bollywood who is known for two things. They are comedy and dance. Notable dance numbers of 1990s like mein to raste se jaa rha tha, what is mobile number etc have created enough waves in 1990s. the most amazing part in Govida's dance is his expressions. Many locals from UP and Bihar consider Govinda as the most magnificent dancer ever.
3. Tiger Shroff – The Bollywood's Michel Jakson
Acrobat moves, gymnast and fluid body with exceptional cute looks is The Royalistic Tiger Shroff. His moves are difficult to copy and his actions are super human. People are founding him as the combination of Akshay Kumar's action hero image and Hrithik Roshan's dynamic dancer image. From the very first film "Heropanti", he showed his perfect dancing abilities. The Baaghi actor is impressing huge dancing professionals, with his various dance numbers likes Whistle Baja, Zindagi Aa Raha hun mein, Main Hoon etc. He is rightly spotted him at number 3. His waves, locks, jumps truly make him the Bollywood's Michel Jackson.
2. Hrithik Roshan – The Toughest Bollywood Dancer of Bollywood
Ek Pal Ka jeen, Superb Dancing in Kites, Mein Aisa Kyun Hoon, Bumbro Bumbro, Raghupati Raghav etc. truely makes him most toughest Bollywood dancer. All the western forms of dancing is like lifting a match stick for him. He is hardworking, his expressions are good, he is fast learner most importantly he is a born dancer. He infleunced many male dancers in Bollywood. At the time when Khans were ruling and rising, Roshan established his own followings significantly as there have not been as good male dancer as him. He was best from the rest. Our words are lesser to define how fantastic he is in this domain. That is why he is Dancing Greek God of Bollywood.
1. Madhuri Dixit – The Best Dancer of Bollywood in all the respects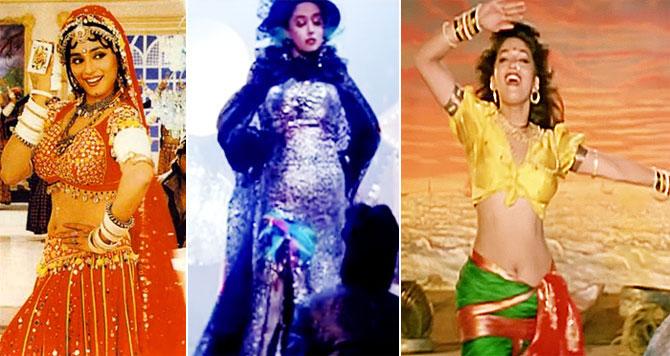 Best Expressions thumbs up, perfect moves thumbs up, lovely grace thumbs up, character dancing with any "RAS" thumbs up. She is dancing right from 1984 (Golden Age) to the star screen awards of 2017 (Modern Age). The Diva of dance or definition of dance both are synonyms for her. No one in the industry has performed more number of forms than her. In her career span she has done Punjabi, Rajasthani, Haryanvi, Gujrati, Koli, Lavni, Bengali, Kathak, Bharatnatyam, Cabaret, free style, MJ style, Hip Hop, Flaminco, Areal, item numbers etc. She is unarguably the most versatile dancer of Bollywood. Her expressions are like a dream to copy and her aura is mysterious. Her all dance numbers are all time blockbusters. No matter her movie is hit or not, her dance has always has created the waves, Hence proved, no one can beat our dancing diva Madhuri Dixit when it comes to dance.
Also See Top five leading Bollywood Actresses in comedy ever
New Entry – Special Mentions – Nora Fatehi, Shraddha Kapoor